People and Mission
Mission
ArtOrg impacts individuals and communities through visual arts projects and events primarily centered in the print, with public art, commissioned work, and experiential-based education initiatives.
Staff
Dave Machacek
Executive Director, ArtOrg




Dave worked in Germany, ran a small business in Northfield that had about 50 employees, and worked for a high-tech startup. Dave went to the U of M for many years in engineering and business.
Kari Alberg
Graphic Designer, ArtOrg


Kari is a working artist and illustrator (see her work at Studio Kari) in addition to helping ArtOrg with all things graphic design. Her illustrations have been used by the San Francisco Opera, the New Yorker, and the Philadelphia Museum of Art. She has also been featured in the collection of American Illustration no less than six times.
Board of Directors
Ron Wolfe, Board President
Artist and Arts Administrator


Ron has a MFA in sculpture and ceramics and a BA in Art Education from the University of South Florida in Tampa. For many years Ron was the Exhibition Designer and Operations Manager for the 12,000-square-foot University of South Florida Contemporary Art Museum. There he directed and designed all art exhibitions for the museum. Ron is a current member of the Bayport, Minnesota Planning Commission. Ron is now at the Minnesota Childrens Museum.
Therese Sexe
Arts Advocate
Therese is a supporter of the arts in both outstate Minnesota area and the Twin Cities, a graduate of Minnesota State University Mankato and a master gardener.
Greg Mattern
Partner, HDMG




Greg worked for Public Television for 12 years before starting at HDMG where he became a partner years ago. He has traveled extensively to Berlin, Prague, Budapest, Vienna, Paris, Amsterdam, Sydney, Melbourne, and driven across most of the United States. Greg has been a construction worker, worked as a oil field roustabout , farmed, handled livestock including pigs, lambs, chickens and cows. He was also a disc jockey for 5 years.
Glenn Switzer (currently on Board hiatus)
Owner Switzer's Nursery and Landscaping, and Arts Advocate



Glen is Mayor of Dundas, Minnesota and has been active in many areas of our community. Glen is on the Board of the Mill Towns Trail, and holds a vision for an ARTrail between Dundas and Northfield. Glen works hard at the 80-year-old local business Switzer's Nursery and Landscaping. Glenn has been a Humphrey Institute Fellow at the University of Minnesota for one year.
Nathan Davis (currently on Board hiatus)
Arts Administrator


Nathan Davis is the Executive Director of Development at the Brubeck Institute in Stockton, CA. He has also worked as a music professor in the Minnesota State University and College system, as a performing arts presenter, and extensively in developing rural arts education outreach projects. Professional positions also include serving as a Provost of a higher education consortium, and as Executive Director of the Perpich Center for Arts Education. Along with ArtOrg, Nathan serves on the Board of Trustees of the Minneapolis College of Arts and Design.
Board of Advisors
Mark Fries
past Vice President, Best Buy Corporation



Mark has an MBA from U of Minnesota, and is former board member of the Illusion Theater in Minneapolis. He has held various accounting and strategic management positions during his career.
Susan Jacobsen
Director of Public Programs, Minnepolis Institute of Arts


Susan is in charge of one of the big departments at the MIA, and responsible for all educational programs. Susan is also active with many other nonprofit groups.
Scott King
Owner, The Red Dragonfly Press


Scott King founded Red Dragonfly Press 10 years ago and has been a resident artist at the Anderson Center in Red Wing, Minnesota since 1999. Scott produces letterpress-printed editions of modern poetry. Scott's books find homes in the permanent archive collections of many libraries, and he is sought after by authors and poets alike for his artistic gift with typography and bookmaking.
Kory Kohrs
Consulting CPA
Kory was Chief Financial Officer of Northfield Equipment and Manufacturing during its growth and subsequent sale to York International in 1996. He went on to build a successful consulting business and has worked with the Northfield Golf Club and the Laura Baker School. Kory has an MBA from St Thomas.
Douglas Padilla
Working Artist and Arts Organizer


Doug has been a fixture in the Minnesota arts scene for many years and is a co-founder of the Grupo Soap del Corazon (Soap of the Heart Group), a group of local Latino artists which has organized many local Latino art events and exhibits. Doug has exhibited in Paris, received a Minnesota State Arts Board Fellowship, and was named City Pages Artist of the Year in 2000.
Cora Scholz
Former Executive Director, Northfield Youth Choirs
For over 18 years, the energy behind the Northfield Youth Choir was Cora Scholz. She developed the NYC in to one of the preeminent groups of its kind in the nation through lots of hard work and high standards.
Rick Swearer
Working Artist


Rick grew up in Northfield when his father Howard Swearer was President of Carleton College. He has a BFA from Macalester College in Printmaking, and has also worked actively in glass blowing and ceramics.
Staff
Dave Machacek, Director
Kari Alberg, Graphic Design
Board of Directors
Ron Wolfe
Greg Mattern
Therese Sexe
Glenn Switzer
Nathan Davis
Board of Advisors
Cora Scholz
Douglas Padilla
Kory Kohrs
Mark Fries
Rick Swearer
Scott King
Susan Jacobsen
Photos
Therese and Friends
Greg Mattern
The Family Swearer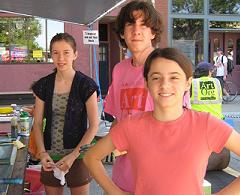 Ann Nordby
Nathan Davis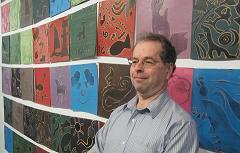 Wendy, Kathy, Ron and Ann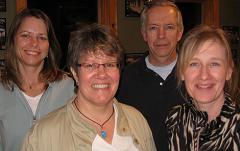 Wendy on Finance Committee