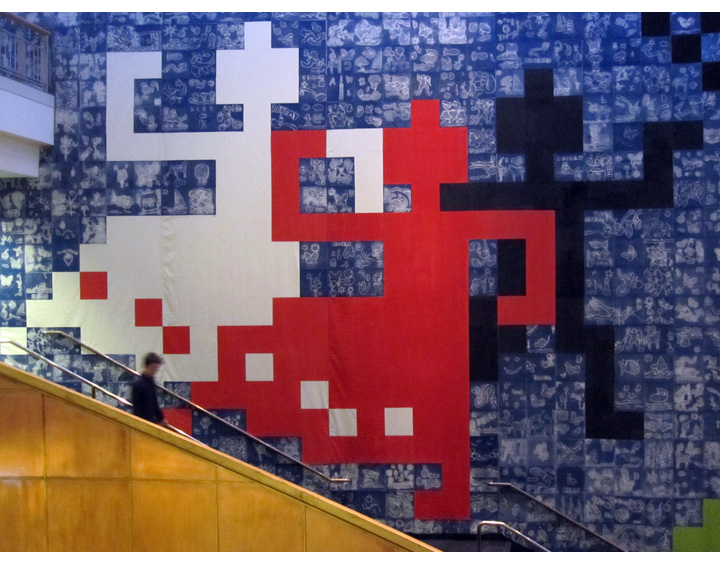 The "Children's Gift to Norway" (CGTN) was created at 15 events across Minnesota by over 1500 children. ArtOrg taught printmaking at those events, and the children left each event with a wonderful print of their own design on paper. ArtOrg saved the printing blocks and reprinted them later on fabric to make the CGTN. Each one of the individual prints can be seen up close, but when observed from far away, the overall design looks like old Norwegian knitting patterns.
The Children's Gift to Norway artwork is big, and measures 50 feet tall by 100 feet wide (the size of a basketball court). All of that fabric and ink is also heavy, and the work weighs about 250 pounds. We have created a huge trunk to house the CGTN for travel. Our trunk is inspired by old Norwegian immigrant trunks and is being built by a group of three artists.
We want to send the work to Norway in 2016-2017. First, we will have a sendoff party, and the Children's Gift will be on the floor to walk on and inspect the 1500 individual prints. At the end of the sendoff party, we will carefully fold up the print and put it in the big trunk. During the folding of the CGTN, special music will be performed by several groups and organized by a composer.
We will be raising money for the trip to Norway using the platform called "Kickstarter". Please contact us if you would like to sponsor the Children's Gift to Norway outside of our Kickstarter event.
The events in Norway are not yet finalized.
Because the CGTN print is so big, we also have designed a smaller version of the exhibit. The smaller exhibit shows a small piece of the print (about 10 feet high by 20 feet long), the trunk with the top propped open, and other interpretive materials. There will be a lively schedule of exhibits in this smaller version, before our sendoff party.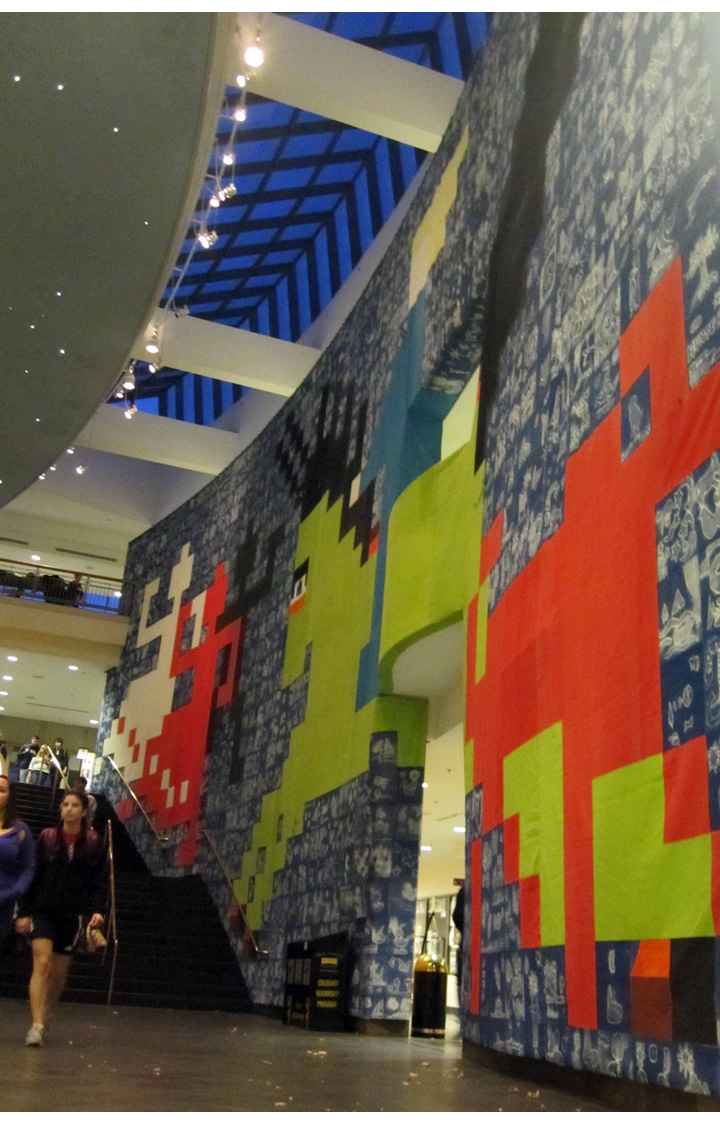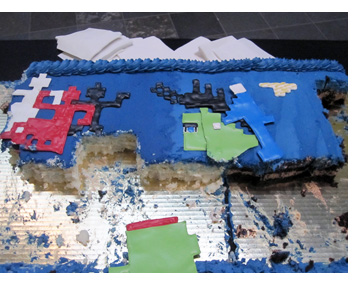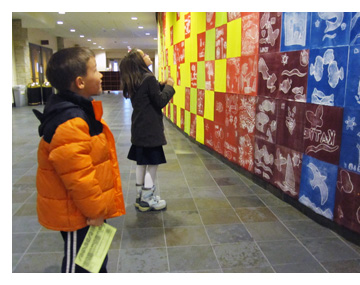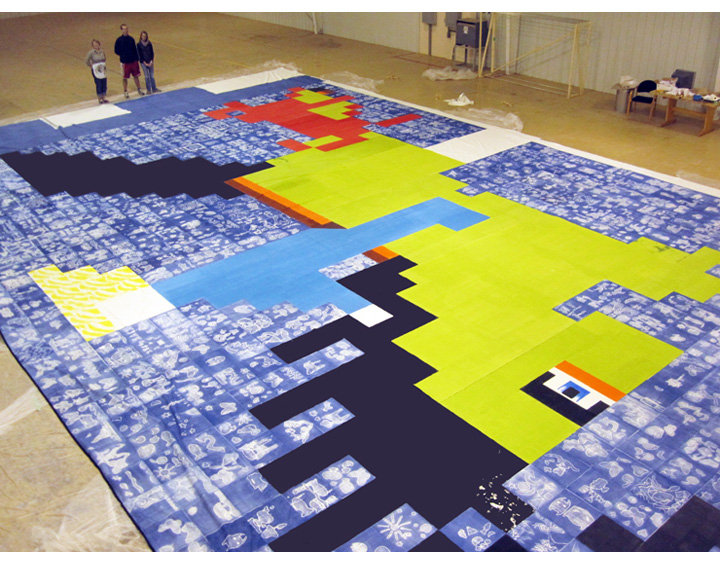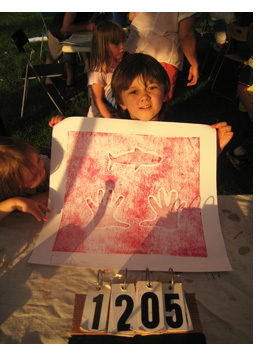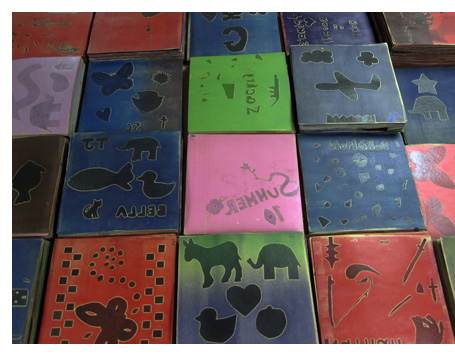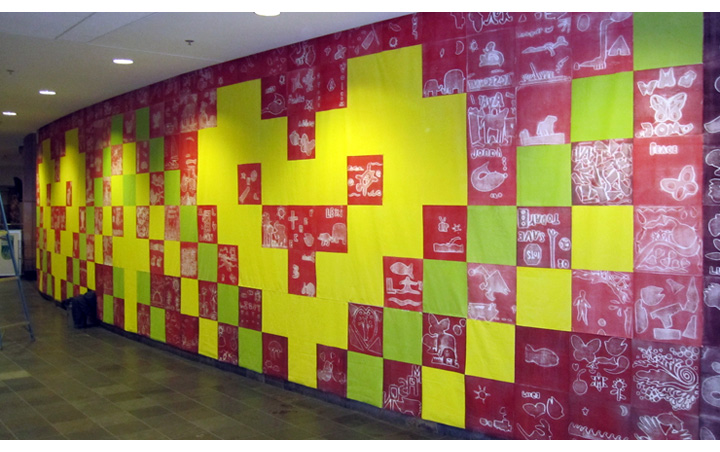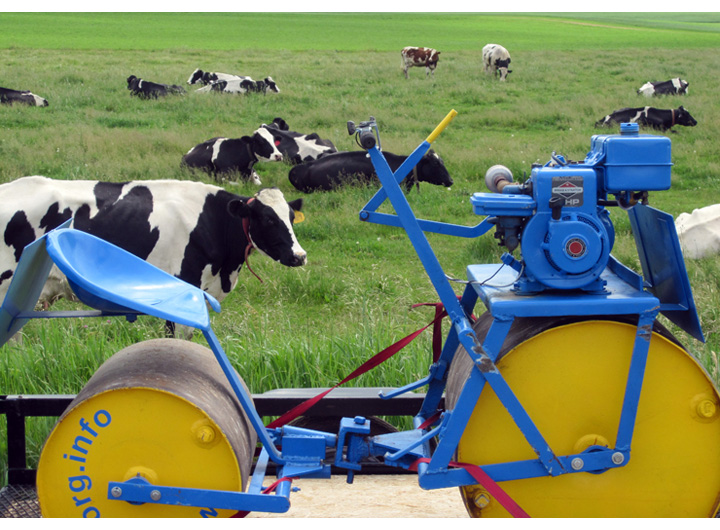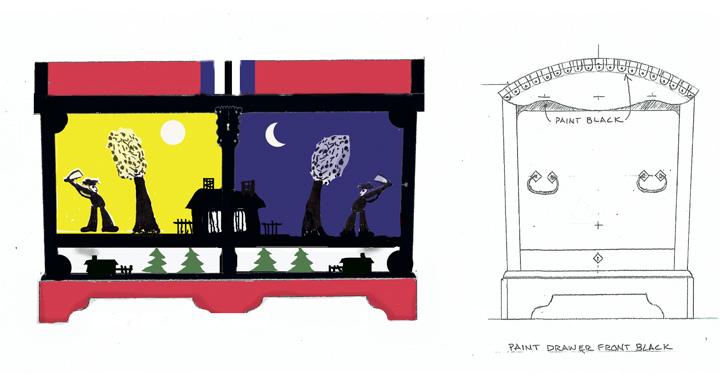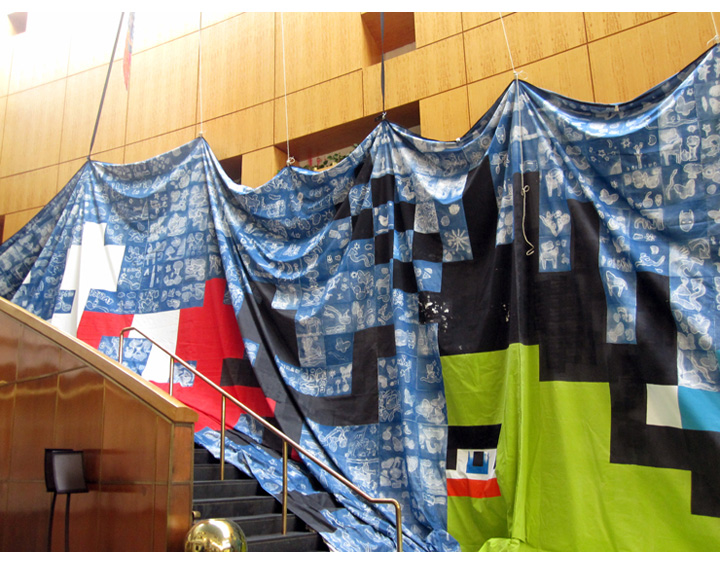 Click here to see a large image (3 MB) of the 50 foot by 100 foot Children's Gift to Norway. Copyright 2014 ArtOrg.
A Children's Gift to Norway
Large relief print mashup on fire-resistant fabric, with associated trunk and shipping crate.
| | |
| --- | --- |
| Artists | over 1500 |
| Year | 2014 |
| Width | 100 feet |
| Height | 50 feet |
| Edition | 1 |
| Publisher | ArtOrg |