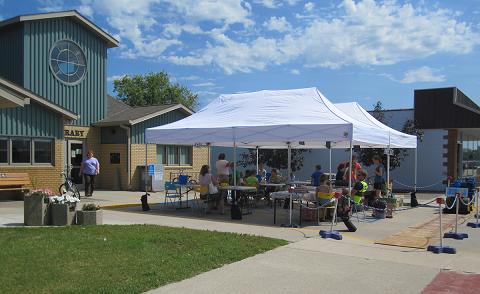 ArtOrg has performed the event called the "Thousand Print Summer" over 100 times since 2008, and in 2014 will surpass 10,000 kids served. Many adults make prints, too!
We come with 5 to 6 experienced artist workers, all equipment and supplies needed to hold a successful event. We run each event for four hours and have averaged about 80 prints per event. The number of kids prints is multiplied by with the number of people who help or simply watch, and this pushes our average participation per event to over 150. We number each print and photograph most participants, so we have an exact sense of the numbers–no fudging here!
We develop pages our own website for organizations and groups who participate. We photograph each artwork, and take email addresses to stay in contact. These special pages can help you raise attendance to your next event by social media such as Facebook and by sending emails to people who have done the event before. We take photos at each event, and these can be accessed by the venue for many purposes.
It is easy to find wonderful prints that have been created completely from individual ideas and concepts. The time that artists take from beginning to end was generally about 20 to 30 minutes–although some can spend a longer time if designs are intricate. ArtOrg workers are also adept at getting things started in case the inspiration is not there. We use the term "discrepant event" when describing the Thousand Print Summer. A discrepant event is characterized by something turning out not as expected–the letters and figures on the print block must be designed backwards, and that the color to be printed is chosen by the kid. This means learning happens.
The artists leave each event with a great paper print, that print can be framed in an inexpensive IKEA frame. ArtOrg retains the inky printing blocks for possible reprinting into a larger collaborative works in the future. A good example of this is the "Children's Gift to Norway" project from 2014 where over 1500 kids blocks were integrated into one massive print. This may be an additional opportunity for the kids to learn about collaboration.
ArtOrg can give tools to venues to help raise money by sponsorship. There are real opportunities for local sponsors to benefit from supporting a Thousand Print Summer event. There locations for signage on the steamroller, and printed material from the sponsor can be given to each participant. We have printed for many local libraries, town festivals, and special events. We have worked with many of the regional library systems, the regional arts boards, and other funders–who already know the Thousand Print Summer.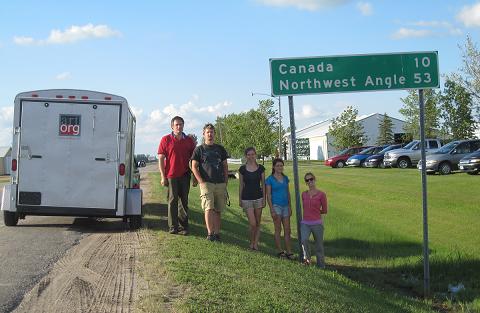 Records
Most prints at one event:
2013 Minneapolis Monarch Fest, 439 prints in 6 hours
Most events done in a stretch:
June 2010, nineteen events in twenty days
Biggest reuse of print blocks:
1500 blocks for 2014 Children's Gift to Norway
Hottest Event:
7/4/12 Rockford, Illinois, 102°F
Coldest Event:
5/14/11 Augsburg Park Library, 25°F snowing
Most years in a row:
Six, Rochester ARTigras 2008-2013
Longest drive (excluding us):
Winnipeg family drove to Warren, MN in 2011
Example Venue Pages
Example Reprinted Block Projects
2013 St. Cloud Street Banners
Sponsors
Video
How the Event Works (2 min)
References