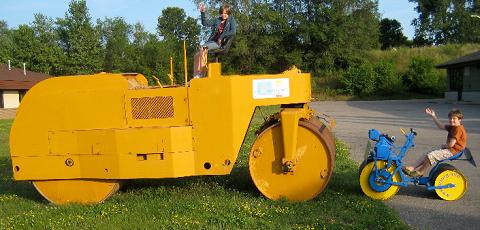 ArtOrg has developed a large steamroller printing capability that is available for future projects. Two of our previous projects comprised of 22 large four-foot-by-eight-foot steamroller prints have been accessioned to the the Weisman Art Museum at the University of Minnesota, and the Plains Art Museum in Fargo, North Dakota.
ArtOrg's "steamroller" from the manufacturer Buffalo Springfield weighs 20,000 pounds, and has large diameter rollers that measure 54 inches wide. This equipment is suitable for printing woodblock relief prints of up to four feet wide. This roller is not powered by steam, but instead a gasoline engine. ArtOrg has logged considerable time printing with this equipment, and has accrued considerable know-how on how to facilitate great future projects.
The art in our projects has been very good–and the ultimate success is based solely on the artists. In a typical collaborative artist-printer relationship, however, ArtOrg tries to facilitate the creation of good art by suggesting inks, block materials, and papers (or other substrates). We work with the artists to suggest materials and methods by relating what has been successful in the past.
These projects are great fun and attract a lot of attention. Essentially large steamroller printing brings an old art form normally reserved for inside studios into the street where everyone can feel involved and a part of what is happening.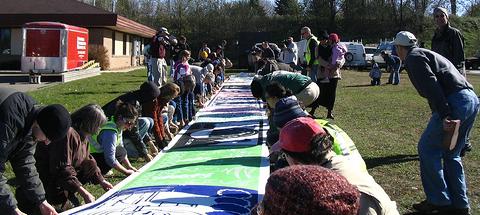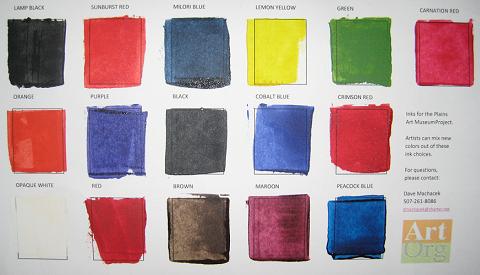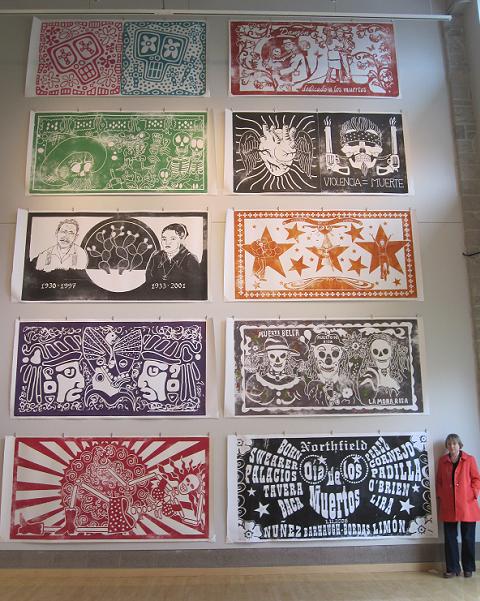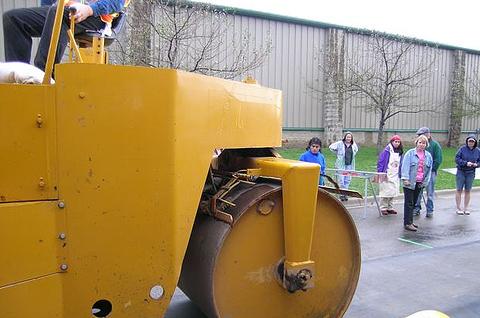 Past Large Steamroller Projects
Large Steamroller Printing Supplies
1960 Buffalo Springfield model K19-B8
Atlas Mark IV drying rack model 5281
Large-format archival aaper
Ink and ink modifiers
Hand inking rollers
Carving tools
Press blankets, registration pins, folding tables, tents, underlayments, mixing slabs, tools, clean up, etc.
Videos
Printing with Buffalo Springfield (8 min)
104-foot-long Steamroller Print (6 min)
Printing for Plains Art Museum (14 min)
Real Steam-powered Printing (6 min)