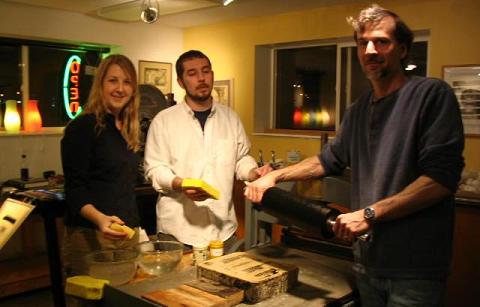 ArtOrg operated a fine-art printmaking studio in several locations over the last ten years, but the Cannon Falls facility will put the best of that equipment and acquired know-how to permanent use. ArtOrg is a general-purpose arts group, and we focus on education and artist collaborations. Printmaking, however, has found a special place serving our collaborative mission.
Our printmaking studio equipment is extensive and unique, and represents a significant resource for ArtOrg projects, artists, and print students. We anticipate offering memberships to a printmaking studio co-op, and residencies when combined with our living quarters.
Museum-accessioned Print Projects
Lithography Equipment
Takach Press 46 x 96 with Plate Backer (motorized)
Fuchs & Lang Press 50 x 72 with Plate Backer
Two Fuchs & Lang Litho Presses 28 x 48
Over 50 Litho Stones to 36 x 54
Over 10 Inking Rollers to full-sheet size
Graining Sink
Plate Punch
Etching Equipment
Takach Press 40 x 72
Dickerson Combo Press
Vertical Etching Tank
Hotplate 24×36
Plate Shear
Letterpress Equipment
Vandercook Press
Shniedewend Iron Handpress
20 Type Drawers
Furniture, etc.
General Equipment
Challenge Paper Cutter 23″
Large Drying Racks
Flat File Storage
Tables
Video
Big Litho Press Installation
104-foot-long Steamroller Print