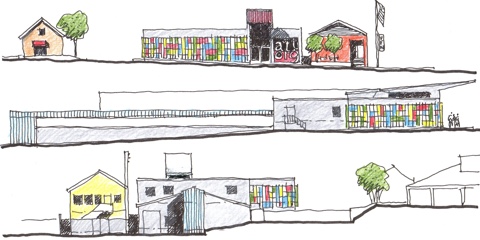 In 2014 ArtOrg applied for and received a $15,500 grant from the University of Minnesota Extension's Southeast Rural Sustainable Development Partnership (RSDP) to fund work by the University of Minnesota's Center for Rural Design (CRD). The proposal is for the CRD to develop a Concept Plan for our facility and site. There is considerable opportunity for this ArtOrg concept plan to act as a lynchpin for surrounding site and river walk development. The EDA may consider this area as a potential focus for its 2015 work plan.
ArtOrg intends to progress on two fronts concurrently. Phase 1: Renovate in a timely manner the existing facility so that we can office in the building and start creative projects in the large studio space. Phase 2: Work with the City and other stakeholders to determine a more comprehensive plan for the surrounding site, with possible expansion of the ArtOrg facility.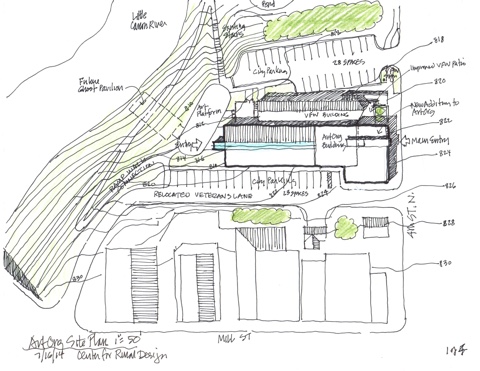 Dewey Thorbeck is the lead architect for our project and is willing to meet with the City and discuss the work. Dewey Thorbeck is currently building the new Norway House in Minneapolis. We have had informal meetings with the neighboring VFW and Mill Street Tavern, and also introductions with Dave Maroney. In spite of the fact that Phase 1 is going forward now, there exists significant opportunity to integrate our Phase 2 ideas into overall City and surrounding stakeholder concerns. For example:
1) Additional parking along south end of ArtOrg property could be established.
2) Alleyway along south end of ArtOrg property could be perfected to allow for access for delivery and to fire plug in back of 432 Mill Street W and neighboring building. This may facilitate the closure of Veteran's Lane and the recapture of that space for Riverwalk or outdoor event space.
3) Area directly to rear of ArtOrg and possibly VFW could be improved for an event and art-making space. For example, there may be space for something like a 30 x 60 event tent. ArtOrg may consider administering a "utility box" in that area to facilitate connection to art-making equipment such as kilns or furnaces for outdoor demonstrations during festivals or farmer's markets.
4) A shadow structure could be built to act as a scenic outlook and public gathering spot. It could be coincidentally located in the very spot where the historic Stone Mill was located. Several artists known to ArtOrg come to mind to create this structure. This project would appeal to a broad base of historic, public art and commercial-based stakeholders and serve as a beautiful focal place to the City.
5) The sketches show ArtOrg expanding the front of the existing facility to the natural sidewalk line of the downtown. This would have the effect of strengthening the downtown feel, slowing down traffic, and making the area safer. ArtOrg has contacted MnDoT about these possibilities and they are ready to consider proposals.
6) Further integration of plan to help Mill Street Tavern outdoor deck (we now allow their dumpsters on our property to lessen odor on their deck), and possible back entrance.
7) Sharing of elevator with VFW to assist with their compliance with ADA requirements.
These ideas and sketches concerning neighboring stakeholders and the City are by no means limited to the above ideas. And, the above ideas will likely change, and with further discussions, ArtOrg is confident of real progress on this important site to ourselves, the Cannon Falls arts, cultural and food community. As stated before, however, "there is considerable opportunity for this ArtOrg concept plan to act as a lynchpin for surrounding site and river walk development." Thanks for considering these plans and giving us input.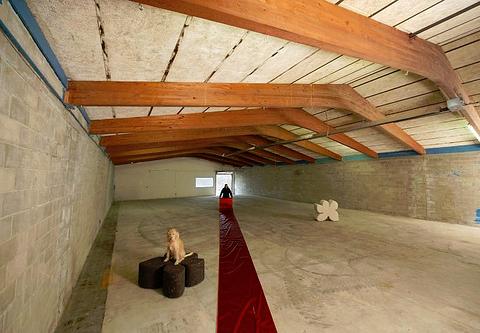 Lead Partner
Partners
Resources
Inspirations
Photos
Cannon Falls Facility