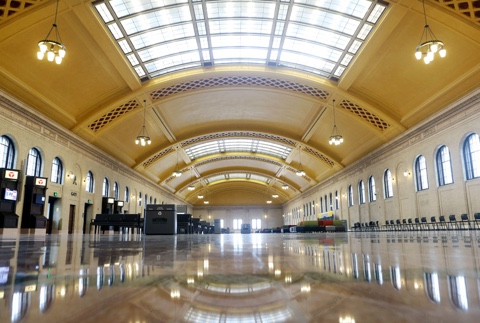 We are planning a big send-off party for the Children's Gift to Norway, and the date for the send-off party has not yet been determined. The print will be spread out on the floor, and people will be able to walk on the print to observe closeup all of the 1500+ artworks created at 15 events across Minnesota. At the end of this sendoff, we will fold the huge work up and place it in its trunk for transport to Norway. The event will be broadcast live over the internet.
A special part of this celebration is an original arrangement and music composition by Dan Kallman and rendered by several musical groups. The groups will be stationed on each side of the basketball-court-sized artwork, and then move closer and closer together as the print is folded to be put in the trunk. The groups may play in call and response initially, but then music may then resolve into a unified whole, when all groups are standing around the Trunk. Then, the trunk will exit the event hall for its trip to Norway.
There will be many groups and performers present at the event. A likely venue for this event is the St. Paul Union Depot, which has just enough space to house the print and the people.

Send-off Party
Gather
View the work close-up
Folding of Print, laying in Trunk, to original arrangement and music composition
Departure of Children's Gift to Norway
Event ends
(All times in CST, Norway is +7 hours from CST)
Participants/Vendors
Children, of the Children's Gift to Norway
ArtOrg, Children's Gift to Norway
Roland Poska, signing of Declarations of Interdependence to be added to Trunk
(not confirmed)
RA, Turner
Ingebretsens
and more…
Music
Peter Diggins
(not confirmed)
and more…
Live Video of Event
(Dan's Title)
Arrangement of separate music with resolution to original composition for moving performers in a festive setting.
| | |
| --- | --- |
| Composer | Daniel Kallman |
| Year | 2015 |
| Number Groups | 4 |
| Publisher | Kallman Creates Pub. |
| Organizer | ArtOrg |