2004-2005 Mary GrandPre Events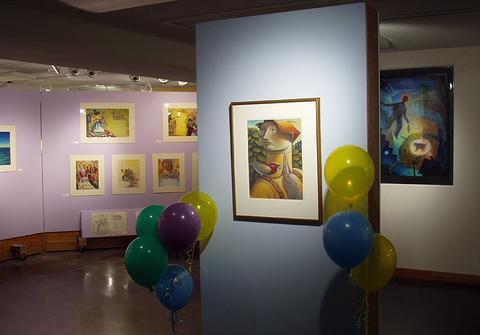 ArtOrg was honored to hold a large exhibit of original art from the artist and illustrator Mary GrandPre. Many people and busloads of kids visited the show we called "An Artistic Spell", and the exhibit was used as the centerpiece to a four-business Harry Potter book release evening. On that night, the streets of "Cowsmeade" (Northfield) were filled with kids, and we estimate over five-hundred people visited our gallery in the first two hours of these coordinated events. ArtOrg created and coordinated the concept of Cowsmeade and this resulted in a very successful collaboration between several downtown businesses. A couple of years later, the next book was released and the plan was expanded to include even more businesses.
The Mary GrandPre exhibit included works from many of her children books, most prominently the book "Plum", and also some original personal works. We put out a box in the gallery, and the resulting "Letter to Mary" are shown below. The kids who attended this gallery exhibit seemed to have very personal and warm connections to this important artist. Thanks, Mary!
Link
Press
Events
11/12-21/2004
An Artistic Spell Exhibit
7/15/2005
Cowsmeade Book Release Event
7/15-31/2005
An Artistic Spell 2 Exhibit
8/2/2005
Mary Draws Harry Children's Drawing Class
7/20/2007
"Cowsmeade 2" Book Release Event
Video
Mary Draws Harry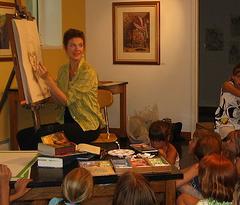 see larger size here
Photos
An Artistic Spell Exhibit
Cowsmeade Book Release Event
Second Book Release Event
Poster
Mary GrandPre An Artistic Spell