The Seat Suite

ArtOrg has brought together artists to create seating for the popular Flint Hills International Children's Festival at the Ordway Center.
Please watch this page for more information on the Seat Suite project. We will be updating this page with new photos and news items concerning the suite. The art was unveiled for the first time at the Children's Festival on Saturday, June 2 and Sunday, June 3rd 2012 in downtown St. Paul, and it will return to the festival in 2013. The suite was shown in August of 2012 at a day-long art fair in St. Cloud, and a day-long event at the Minnesota State Fair that was organized by Signfeld Media. We now have the ability to highlight exhibitions of the project with a 12-foot-wide by 14-foot-tall banner.
Thanks very much to Switzer's Nursery and Landscaping for providing a space in which to work, and for the various tools we needed to get the job done. Thanks also go to sculptor's assistants Jeremy Kilkus and Chris Delisle. Thanks to Forecast Public Art for moving and shaking this project forward. And last but not least, the artists themselves for their drive and passion in creating outstanding works. Thank You!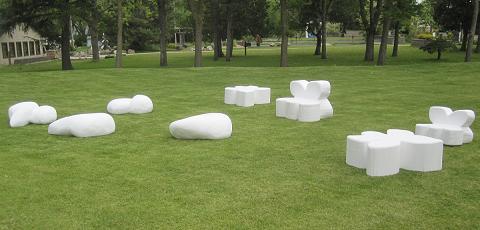 Artists
Further Exhibitions and Press
Sponsors and Thanks
The Seat Suite
Three large and thirty smaller works in hard shell with robust finishes.
| | |
| --- | --- |
| Artists | 3 |
| Year | 2012 |
| Art Size | varies |
| Edition | TBD |
| Publisher | ArtOrg |
Photos
Main Project Photoset

State Fair Exhibition 8/24/12

St. Cloud Exhibition 8/8/12