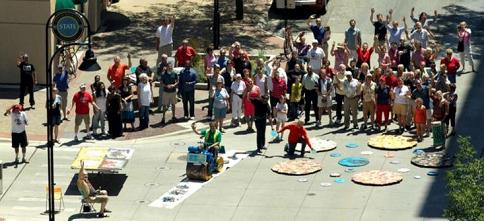 The artist Roland Poska asks the question "are you are a Great Human Being?", then sign your name on these "Declarations of Interdependance". The original print suite was started in 1990 as the project "Genentic Messages" and have been now modified to include the final messages. Poska's long career presently centers around several primary Concepts which include: "Are You a Great Human Being?", "The Great Human Race", and "Declarations of Interdependence". The embodiment of these Concepts often revolve around Herculean artistic production such as Poska's "Genetic Message" series which include over three-thousand full-sheet handmade stone lithographs.
These sets of prints are exhibited in public places, now all over the globe, and people put their signature to attest to the ideals of the Great Human Race Initiative: to end poverty, end violence and achieve respect for all!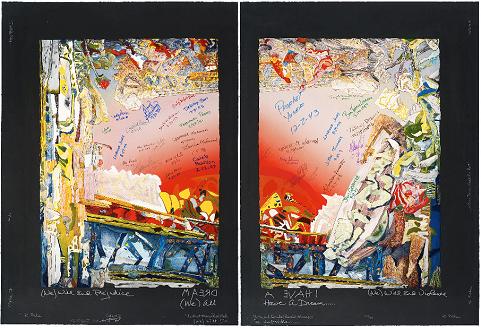 Links to More Information
Mini Colophon
Genetic Messages
Large print suite using stone reductive lithography representing the five skin colors of the human race. Prints have embedded messages, and include one true dyptich and one apparent dyptich (printed on single sheet of paper) per skin color.
| | |
| --- | --- |
| Artist | Roland Poska |
| Year | 1988-1992 |
| Paper Size | 42 x 30 |
| Editions | 15 |
| Reg. Ed. | 150 |
| Proofs | 75 |
| Paper | Rives BFK |
| Publisher | Fishy Whale Press |
Photos
Signing Events
Videos
4th of July 2011 Rockford, Illinois
5/15/13 Lincoln Memorial, Washington DC
10/6/13 Kyiv, Ukraine