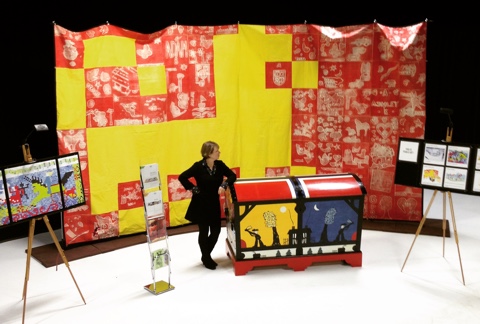 A smaller exhibit for the Children's Gift to Norway has been designed, and is easy to set up. ArtOrg wishes to travel the project to as many places as possible, before it leaves on the trip to Norway. This smaller exhibit is called the "Lion Show".
The Lion Show includes a small portion of the Children's Gift to Norway print (about 1/25 the size of the large work) and this can be separately hung to demonstrate how the larger work has been constructed. We also include other interpretive materials for a complete presentation, and can also give a presentation on the project. The trunk is also shown with the actual CGTN print carried inside.
We would like to exhibit the Lion Show on its trip from Minnesota to the east coast, where the crate will be loaded into a ship or plane for the last leg of its journey. We are also considering a trip to the west coast to exhibit the project in the states of Washington, Oregon, California, and more.


Now Scheduled
see complete calendar here
Completed Stops
5/20/17 St. Johns Church, Northfield MN
5/19/17 St. Ansgar's Church, Cannon Falls, MN
5/17/17 Syttende Mai Minnesota Banquet, Bloomington MN
3/20/17 HDMG, Minneapolis MN
3/3/17 Buntrock Commons, St. Olaf College, Northfield MN
6/6/15 Rochester Art Center, Rochester MN (lion only)
6/3/15 Rural Arts and Culture Summit, Morris MN (lion only)
5/9/15 Nordmarka Lodge, Sons of Norway, Northfield MN
4/5/15 St. Johns Church, Northfield MN
3/23/15 Rockford City Hall, Rockford IL (lion only)
2/21/15 Pauline Fjelde Lodge, Daughters of Norway, Minneapolis MN
1/24/15 Forecast Public Art, St. Paul MN (trunk only)
12/4/14 Aquavit Tasting, Weisman Art Museum, Minneapolis MN (trunk only)
7/17/14 Daughters of Norway Convention, Mall of America, Bloomington MN (trunk only)
6/26/14 Norway House Fundraiser, Interlachen CC, Edina MN (trunk only)
Proposed Stops
Cannon Falls MN (ArtOrg)
Pepin WI (Tom Latané)
Vesterheim/Luther College, Decorah IA
Madison/Stoughton WI (Solien)
Rockford IL (Poska Store)
Newark NJ (Stephen McKenzie)
California Lutheran College, Thousand Oaks CA
St Cloud Library, St. Cloud MN
Parts of Traveling Exhibit
Talk on the entire Children's Gift to Norway Project (30 to 60 minutes).
Trunk containing Children's Gift to Norway print, 36 x 34 x 66 inches, on large casters, but heavy.
The Lion, fabric print, 120 x 240 inches.
Easels, signage, and printed material to give away.
Layout and setup requirements
Free-standing poles and bases are provided to display Lion.
Lion displays best if ceiling is a minimum of 120″ high, although 96″ is OK.
Setup is best at 20 feet wide by 10 feet deep, but setup is flexible.
Trunk requires 34 inch wide door opening.
Internet access for live streaming.
Video
We can stream live at each stop