September 6, 2006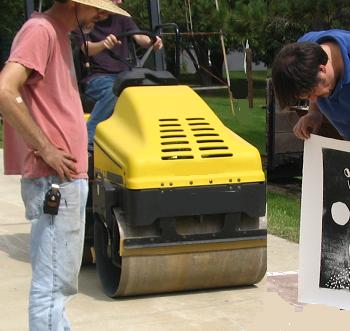 ArtOrg will be printing with a small steamroller at the next Minneapolis Institute of Arts Family Day called "Sailing Into September" on Sunday, September 10 from 11 am to 4 pm. This event usually draws 2000 visitors, and we are setting up our printing activity to accommodate about 500 kids. That's a bunch of kids!
We will be printing medium-sized, individual prints using non-conventional materials for the kids. Check the weather forecast here. We are also holding a class in Northfield on the school vacation days Thursday and Friday October 19 and 20 on block printing, and we may also incorporate steamroller printing into that class, as well.
This steamroller printing event, while large in number of prints, is not the biggest production this fall. We are renting a larger roller and attempting to complete a one-hundred-foot-long print with local and Minneapolis Latino artists in October. This print will be unveiled at the November First Northfield Dia de Los Muertos celebration at the Northfield Armory. The print incorporates some members of the popular Grupo Soap del Corazon such as Douglas Padilla, Xavier Tavera, and Luis Fitch.