Community Printmaking Studio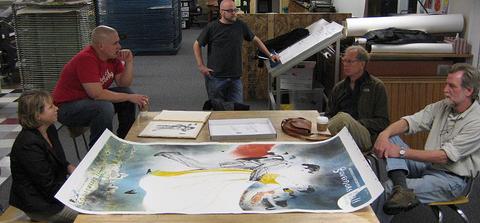 (This page is up for significant revision.)
ArtOrg operates a printmaking studio in Northfield and it is located at 26601 Chippendale Avenue. We are set up for letterpress, etching, and lithography. Our equipment list is significant and includes about eight presses of different kinds and the associated drying racks, hotplates, rollers, and other equipment.
Please contact us if you would like to join our group, get a tour, or simply take a class.

.
Etching Equipment
Takach Press 40×72
Dickerson Combo Press
Vertical Etching Tank
Hotplate 24×36
Plate Shear
Lithography Equipment
Press 50×72 with Plate Backer
Two Litho Presses 28×48
24 Litho Stones to 20×26
Graining Sink
Plate Punch
Letterpress Equipment
Vandercook Press
Shniedewend Iron Handpress
20 Type Drawers
Furniture, etc.
General Equipment
Paper Cutter 23″
Five Drying Racks
Flat File Storage
Tables
Video
Big Litho Press Installation